Being a model means dressing up in the latest fashion trends. Add hours on a makeup chair and you learn a few tricks on transformation. These reasons are exactly why people are always on the lookout for what supermodels will be on Halloween. Creative costumes, expert makeup skills, and fearless personalities lead to supermodels pulling out all the stops when it comes to Halloween dress-ups.
When it comes to wowing the crowd on Hallow's Eve, no one does it better than Heidi Klum. In fact, the 43-year old supermodel has been running an annual bash since 2000 where she displays her love of dressing up. From the crazy to the beautiful to the downright creepy, here's a look at 15 years of Heidi Klum's Halloween costumes. Credits to Huffington Post and Getty Images for the photos.
2000: Dominant in S&M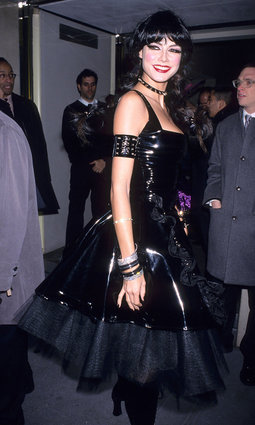 Kicking things off in 2000 was this black latex and tulle get up that's somewhere between a gothic princess and an S&M dominatrix.
2001:  Bloody Dream as Lady Godiva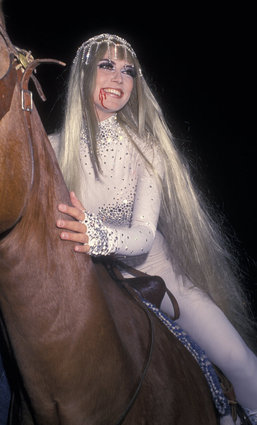 Arriving on horseback in a white bodysuit and long blonde tresses, Heidi dressed up as a bloodied Lady Godiva in 2001.
2002: Flirtatious Betty Boop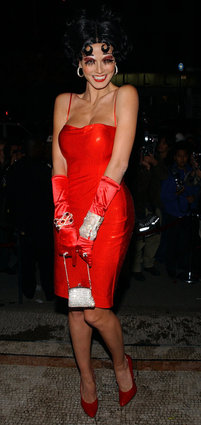 As a Victoria's Secret Angel, Heidi definitely had the curves and personality to channel Betty Boop in 2002.
2003: Golden Space Alien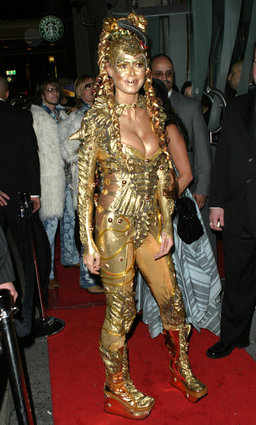 In what we would deem to be her first foray into crazy costumes, Heidi dresses up as a golden space alien with braids coming out of her helmet.
2004: Red Hot Witch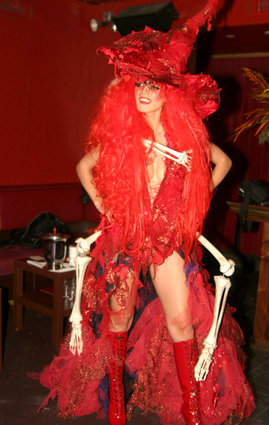 Heidi's rendition of a witch in 2004 could have easily been a scrapped Victoria's Secret Fashion Show costume.
2005: Sexy Vampire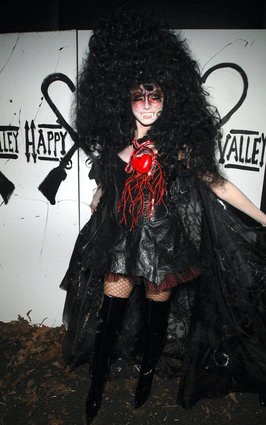 Twilight has nothing on this fabulous vampire!
2006: Garden of Eden's Apple and Snake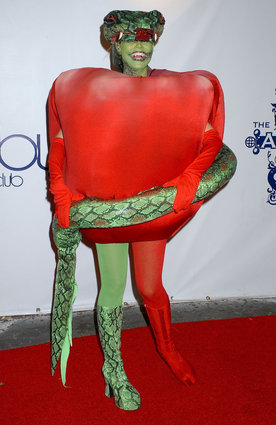 From sleek and sexy costumes to a creative take on the Garden of Eden, Heidi dresses up as the apple and the snake in Adam and Eve's story.
2007: Lithe Black Cat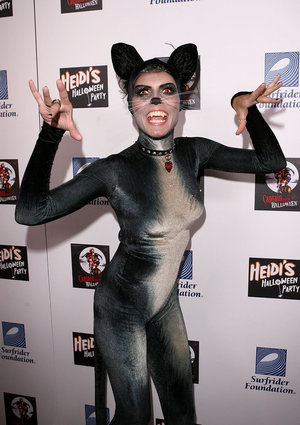 Heidi goes for classic Halloween gear in a sleek cat costume.
2008: Hindu Goddess Kali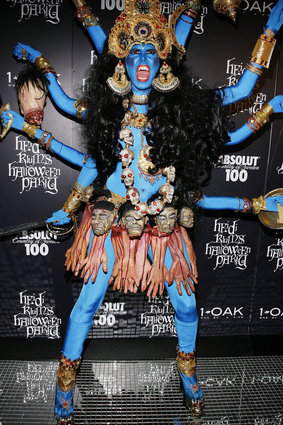 One of our favorites to date was when Heidi came out as the Hindu Goddess Kali, complete with all the arms and severed limbs.
2009: Heidi Klum as a Black Crow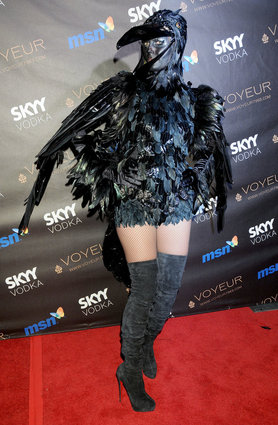 From colorful in 2008 to all black in 2009, Heidi admitted that this crow costume was bothersome. She had trouble getting to the party because the wings didn't allow her to sit properly in the car, and the beak made it difficult for her to eat and drink.
2010: Red and Purple Transformer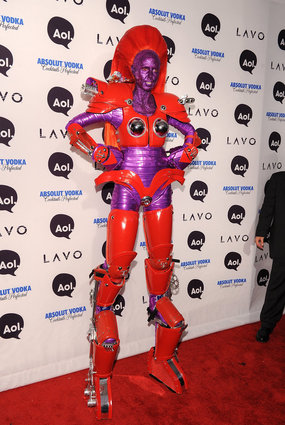 Heidi Klum towered over everyone in the crowd when she went as a purple and red Transformer that stood at 8-feet tall in 2010. She told the press that she wanted to recreate this costume for her kids who love superheroes and robots.
2011: Skinless Corpse and Simian Ape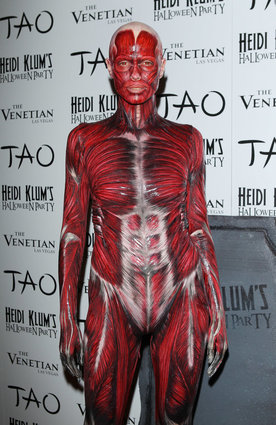 2011 saw Heidi holding two parties. For one bash, the supermodel showed what it was like to celebrate the dead by arriving as a skinless corpse. She even rolled in on a body slab with two bloody doctors pushing her along.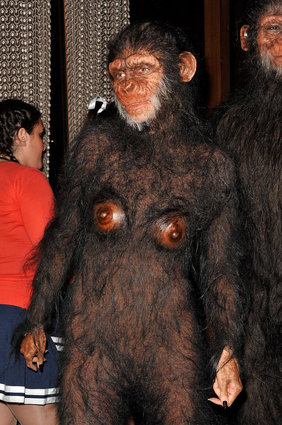 Welcome to the Planet of the Apes! Heidi's other Halloween costume in 2011 was one that had her covered head-to-toe in simian-like hair.
2012: The Lovely Cleopatra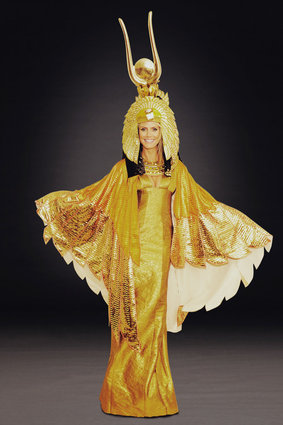 2012 saw Heidi going back to putting on glamorous costumes. She looked absolutely ethereal as Cleopatra!
2013: Grandma Heidi Klum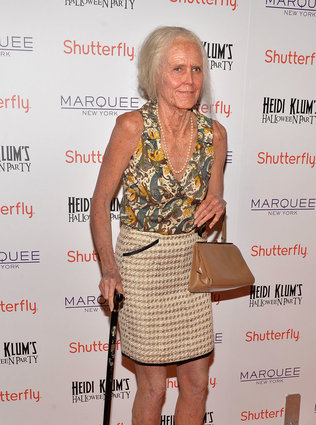 Heidi gives a new meaning to the adage "age before beauty". The then 40-year old supermodel gave us a glimpse into her future self by dressing up as Old Lady Klum.
2014: Fabulous Butterfly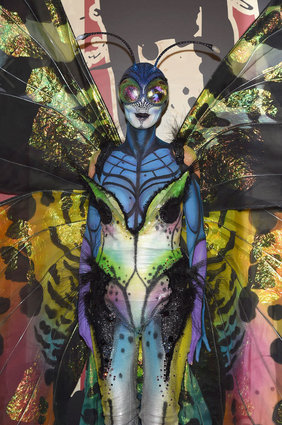 She's got wings, but that's definitely no Victoria's Secret Angel costume. Heidi was a winged wonder in this colorful butterfly attire.
2015: The Curvaceous Jessica Rabbit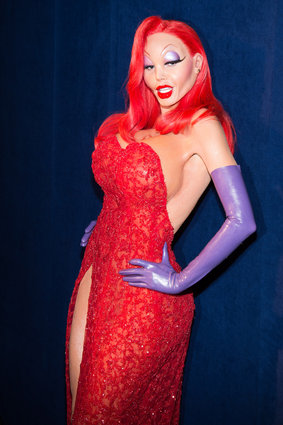 Heidi spent days in a prosthetic lab to bring the curvy Jessica Rabbit to life last year. There's no denying how much dedication she has when it comes to Halloween.
The past 15 years has definitely been crazy when it comes to her costumes, which makes you wonder how she's going to top it this year. What about you? What are you dressing up as this Halloween?